Benjamin born 03 February 2011, Emergency C-Section,
Being from another country, when I fell pregnant in South Africa, the stories of c sections for everyone scared me quite a bit!  I always wanted to have a natural birth, in a hospital, without any pain killers if I could manage the pain.  So we started looking at different options when we came across the idea of going through a midwife. We had lived in the UK for a long time so that sounded perfect for us. We were very lucky to meet Angela with her strong words and big smile which gave us the confidence that everything was going to be okay. She followed our pregnancy closely, I even had to go for diabetes tests because my bump was measuring 4 weeks ahead every time. Luckily it was negative. The week before Benjamin was born, I went to see Angela and Benji  was engaged but quite a bit high still, so she advised me to walk  and bounce on the ball to make him drop for my due date.
I did walk  up and down the mountain and bounced on the ball for hours - as a first time Mom I was getting quite anxious to meet the little one! Finally on Wednesday the 2nd I woke up feeling a different pain in my lower back, not very strong but quite close together, and we started to get a bit exited . That lunch time I got a phone call from Angela that her father had passed away so her partner midwife Glynnis was going to attend my birth. Imagine my panic that I didn't know the other midwife, I just wanted Angela!  The day went by and my contractions continued getting a bit stronger.  As the evening approached, Glynnis came to my house to check me out and I was only dilated 2cm so I had to stay  home for a bit longer.  That night was one of the longest nights ever, the pain was getting worse and sleeping wasnt happening an option. At 6am on Feb the 3rd we decided to head to the hospital where Glynnis and Caitlyn (a wonderful doula) were waiting for us.
I was dilated 5 cm so I stayed on my feet bouncing on the ball,  walking around and trying to breath through the strong pain. Dave made the delivery room very  comfortable for me, some music, some nice food, but for some reason I don't remember anything, I was so focused on breathing.  Hours went bye very quickly  but my birth wasn't moving along nicely.  Glynnis broke my water at around 2pm hoping that would start to move things along, and I started to feel the contractions much stronger, but between breathing and squeezing my husband's hand, we continued without any pain killers.   An hour later I wasn't dilating and the baby was still very high up so by 4pm they called the doctor .  He felt the baby and said he was in distress (heart rate  was slowing down fast) and that his head had moved a bit side ways so he was a bit stuck.  From then everything seemed like a movie, I had an epidural, Dave left to put his green outfit on and before I realized I was in the theatre surrounded by 10 people doing different stuff around me.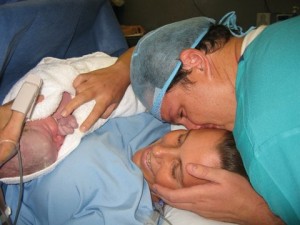 At that point I just wanted to meet our son. At 17 55 he was finally born, and the first thing I heard from the obstetrician was  "he is a tank!"  As much as I wanted a normal birth, things do change, my birth was still a great experience, my husband was very supportive, Glynnis was a great midwife, and my boy was a big healthy Tank!